The Christian Financial Alliance: Bringing Together Sound, Biblical Teaching
Dollars and Doctrine is proud to coordinate a network of Christian Finance websites called the Christian Financial Alliance. The concept is simple: Define a set of core beliefs regarding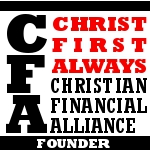 biblical finance and hold ourselves accountable to it.  This way we, and readers, can be assured that we are keeping "Christ" at the center of "Christian Finance".  The purpose of the CFA is twofold:  Hold ourselves accountable to a set of solid biblical beliefs and create panel of experts to answer common questions regarding biblical finance.  Since its inception in January of 2011, we have aimed to maintain to these two ideas.  First:  After much thought, study, prayer, and help from other great bloggers, I put together a list of 20 Core Beliefs of what the Bible teaches regarding money. They are:
The C.F.A. Core Beliefs
1. I believe Jesus is the way, the truth, and the life, and no one comes to the Father except through Him (John 14:6). My heart, soul, mind, and strength seek to glorify God through the pursuit of Christ, and it is my hope that my life and financial management will reflect this fundamental purpose (Luke 10:27).
2. I believe the Bible is the supreme authority and source of truth and instruction for Christians; therefore, I seek to root my financial teaching in the truth of God's word (2 Tim. 3:14-17).
3. I believe stewardship does not equal salvation (Acts 8:20). We are saved by grace alone through faith alone (Eph. 2:8-9). No financial action can save a soul (Matt 16:24-26).
4. I believe God owns everything (Ps. 89:11) and I am merely a steward of His resources for His purposes (Luke 12:42).
5. I believe the heart is the focus of the New Testament's instruction regarding money (2 Cor. 9:7). This does not make obedience contingent upon our feelings, but calls our attention to focus on the intentions of our heart (Prov. 21:2).
6. I strive to be rich towards God (Luke 12:21) and not place my hope or trust in riches (Rev. 3:17-19).
7. I seek to serve God as my master, not money (Matt. 6:24).
8. I believe how we spend our money reveals what our heart treasures; therefore, if God's kingdom has its rightful place in our hearts, it should show up in our budget (Matt. 6:21).
9. I believe prosperity is not the purpose of Christianity (John 6:29). It is a gift that God may or may not choose to give (1 Sam. 2:7), and should be handled with generosity and humility recognizing that to whom much is given, much is required (Luke 12:48).
10. I believe Christians are called to be content in all circumstances (Phil. 4:11) because God has given us everything we need in Christ (2 Pet. 1:3).
11. I believe we are called to be wise stewards of resources (Luke 12:42) but not consumed with a love of money (1 Tim. 6:10).
12. I believe stewardship, generosity, and contentment are fruits of a deeper walk with Christ, not ends in themselves (1 John 5:21). I seek first His kingdom and wait for the rest to be added. (Matt. 6:33)
13. I believe the Bible does not speak highly of the bondage caused by debt (Prov. 22:7); therefore, it should-if nothing else-be approached with extreme caution (Prov. 22:26-27).
14. I believe Christians are called to be generous (Acts 20:35) to their family (1 Tim. 5:8), God's kingdom (1 Cor. 9:14), and those in need (1 John 3:17). After these things, we are free to spend money on ourselves (Prov. 10:22).
15. I believe heavenly reward awaits those who choose to invest in God's kingdom (Luke 12:33), and whether or not God chooses to bestow earthly reward is up to Him (Job 1:21).
16. I believe integrity is more important than financial gain (Prov. 10:2).
17. I believe money can be a blessing and a curse depending on the heart of its holder (Luke 6:44-45).
18. I believe that the way we handle our money should be a testimony of our devotion to God not a distraction from Him. (Col. 3:17)
19. I believe there are many things in life that are more important than money. (Prov. 23:4-5)
20. I believe true riches are found in Christ alone. (Eph. 3:8)
I, at dollarsanddoctrine.com, and any other members of the Christian Financial Alliance pledge to hold ourselves accountable to these core beliefs.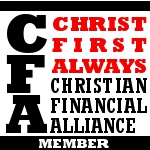 Members of the Christian Financial Alliance 
Bible Money Matters, Discipleship Guy, Drop Dead Money, Faith and Finance, Free Money Finance, Free Money Wisdom, God Money and Me,  Matt About Money, Money Help For Christians, One Money Design, Provident Planning, Rich Christian Poor Christian, and Stewardship Weekly…and counting.
Answering Your Questions
In addition, once a month, the members of the CFA pool their wisdom to answer questions regarding biblical finance.  It is my hope that this provides readers with well rounded, balanced expertise regarding Christian Finance.  The questions we have tackled (to date) are:
Tips for Finding a Great Ministry to Donate to
How do you get financially involved in your church?
In your own words, define "stewardship".
What is the biggest struggle for married couples when it comes to money?
How do you balance giving and saving?
In your own words, define biblical generosity.
Spiritual reasons to get out of debt.
In your own words, define biblical contentment.
In your own opinion, what is the "best" thing a church can do with money?
New Year's Resolutions (2012).
What should a Christian think about retirement?
Why should we handle our money wisely?
Finding Your 'Calling' at Work?
Should a Christian give while getting out of debt?
Learning from financial mistakes
How to fight against the Love of Money
The importance of Thankfulness
Check back soon for more answers to your questions.  If you would like to specifically ask a question to the CFA, you can submit it here.
Wanna Join Our Team?
If you want to learn more about joining the alliance, click here.