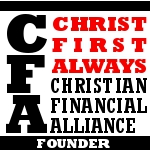 Today marks two years since the beginning of the CFA!  I thought it would be a great way to celebrate by posting all the questions we have answered iover the past couple years.  Thanks to all our readers for following the alliance, and thanks to all the sites that participate and take seriously the call to live according to biblical truth.  Enjoy!
Tips for Finding a Great Ministry to Donate to
How do you get financially involved in your church?
In your own words, define "stewardship".
What is the biggest struggle for married couples when it comes to money?
How do you balance giving and saving?
In your own words, define biblical generosity.
Spiritual reasons to get out of debt.
In your own words, define biblical contentment.
In your own opinion, what is the "best" thing a church can do with money?
New Year's Resolutions (2012).
What should a Christian think about retirement?
Why should we handle our money wisely?
Finding Your 'Calling' at Work?
Should a Christian give while getting out of debt?
Learning from financial mistakes
How to fight against the Love of Money
The importance of Thankfulness
If you would like to specifically ask a question to the CFA, you can submit it here.