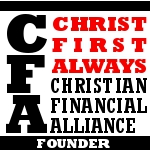 The Christian Financial Alliance  was created to help readers.  The idea is this:  Create a panel of biblical finance gurus.  People who take seriously the call to teach the Bible accurately with grace and truth.  Once a month, we post a question with a response from our panel to provide you with well-rounded, sound, biblical advice.  For more on the Christian Financial Alliance (or to join our team) click here.
"If you could point Christians towards one financial 'tool' (non-book), what would it be?"
"Quicken. I've used it for years (decades, really) and LOVE it. It has helped me track, manage, and grow our finances to where they are today. (BTW, I haven't tried out Mint yet since I have a product I like, but from what I've heard it's a suitable alternative to Quicken.)" – FreeMoneyFinance.com
""YNAB, the most effective budgeting tool I have found out there. My wife and I use and it and love it!" – ChristianPF.com
"I would have to go with Mint.com.  It's the tool my wife and I use for all budgeting purposes and it's really aided in our open lines of communication.  Since all purchases can be seen on a computer or phone, we are very accountable to each other.  This is yet another reason why our marriage is so strong.  With nothing to hide, we help each other glorify the Lord with our purchases.  If you haven't seen or heard of Mint, then you really need to go and check their service out.  The best part is that it's FREE!" – FreeMoneyWisdom.com
"If I could point Christians towards one financial tool that wasn't a book, I'd probably point them towards a software like You Need A Budget. YNAB is a budgeting application that helps families to take better control of their money.  It is basically a zero based budgeting tool that allows you to give every dollar a job, which results in families having more money to give and save once the money leaks are plugged. After all, planning ahead and knowing the state of your finances is important!" – BibleMoneyMatters.com
"I would point people to Crown Financial Ministries (crown.org).  Their site is the best 'one size fits all' resource I can think to recommend.  Their materials are solid and biblically based." – DollarsandDoctrine.com
"I think it's been helpful for my wife and I to use budgeting software such as YNAB (You Need a Budget).  We update our budget each month and track all of our expenses so we know how much money we have left for each budget category.  This has been keey to planning for the future and helping us meet our financial goals."  – OneMoneyDesign.com
"Since many people are trying to get control of their finances and spending during this new year, I'd probably point out different budgeting tools.  A budget is an essential part of any financial game plan.  I wouldn't push them in one direction or the other, but instead, I'd encourage them to check out their budgeting options in an effort to create a budget that works." – MoneyHelpForChristians.com
For more on the Christian Financial Alliance (or to join our team) click here.