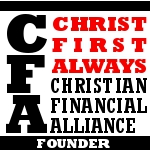 The Christian Financial Alliance  was created to help readers.  The idea is this:  Create a panel of biblical finance gurus.  People who take seriously the call to teach the Bible accurately with grace and truth.  Once a month, we post a question with a response from our panel to provide you with well-rounded, sound, biblical advice.  For more on the Christian Financial Alliance (or to join our team) click here.
"What is one piece of advice you would give Christians approaching Christmas?"
"Take time to enjoy the season. In the rush of all the shopping, parties, planning, and so forth, take time to step back and remember what this season is really about." – FreeMoneyFinance.com
"For Christians approaching Christmas, I would give the cliche phrase that we hear all too often. "Don't forget the reason for the season." What I mean by this though, is that we should not get caught up in the consumerism that has replaced the celebration. To be honest, as a child the only thing that I looked forward about Christmas (besides getting out of school) was getting presents. Now, I am beginning to focus not on the stuff that I can buy others, but celebrating intangible things like family, and service. The best way to afford Christmas isn't to budget for it in advance, but to avoid the consumerism mindset." – ProvidentPlan.com
"Not to go into debt over a single holiday!  I've seen too many Christians max out credit cards in the name of "Jesus."  This is not Biblical or very wise.  Instead, go into this next Christmas and get gifts that are thoughtful instead of materialistic.  Set a budget for yourself and ask that God helps you find the best gift possible." – FreeMoneyWisdom.com
"Enjoy the season.  From conquering the Christmas lists to getting the house ready for family to come over to fighting the crowds, it can be easy to let the stress of the season suffocate the celebration of it.  Try to slow down, enjoy it, and remember Christ…'because that is what Christmas is all about, Charlie Brown'" – DollarsandDoctrine.com
"Personally, I'm trying to keep the true meaning of Christmas in mind which is God's gift in Jesus.  Christmas is highly commercialized and it's easy to get caught up in the buying frenzy.  If not careful, we can forget that Christmas should be a time of celebrating Christ's birth and celebrating with gifts to loved ones and friends."  – OneMoneyDesign.com
"It is more blessed to give than receive.  During the Christmas season there is a powerful temptation to turn inward.  We're encouraged to turn inward and ask what's missing, what's lacking, or what do I need?  Instead, we should challenge ourselves to look outward.  Where are people suffering?  What are others lacking?  Move away from the consumerism of Christmas and adopt the heart of Christ." – MoneyHelpForChristians.com
"My one piece of advice for Christians around Christmas is to keep the holiday within it's proper context, and to not get carried away with the gifts and consumerism – and the talk of Santa and his elves. Keep it in context of the birth of our Savior, and find meaningful ways to incorporate the true Christmas story into the conversation" – BibleMoneyMatters.com
For more on the Christian Financial Alliance (or to join our team) click here.