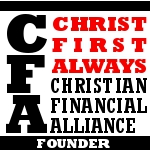 The Christian Financial Alliance  was created to help readers.  The idea is this:  Create a panel of biblical finance gurus.  People who take seriously the call to teach the Bible accurately with grace and truth.  Once a month, we post a question with a response from our panel to provide you with well-rounded, sound, biblical advice.  For more on the Christian Financial Alliance (or to join our team) click here.
"How should a Christian fight against 'the love of money' so heavily condemned in scripture?"
"I think that giving is the greatest weapon against the love of money. Giving takes the focus off of "me" and "more for me" and puts it on others — the exact opposite of what the love of money does to a person's life." – FreeMoneyFinance.com
"One of the best ways that a Christian can avoid 'the love of money' or greed is to continually give money to important causes. This keeps us conscious of the important task that God has given us, which includes helping others and restoring the earth. While it is important to be intentional with our finances, regularly giving money away keeps us from obsessing over it or being greedy." – ProvidentPlan.com
"By going back to the Word.  The Bible needs to be our guiding beacon in this dark world where it seems like everyone worships the almighty dollar.  God to God in constant prayer and this fight will be won rather quickly." – FreeMoneyWisdom.com
"When we become lovers of money, we're giving money a place in our hearts that rightfully belongs to God. In order to protect ourselves from this danger, it's important to elevate God in our hearts and make Him king over our finances. We should study the scripture to learn about God's purposes for the money that He gives us, and pray for specific guidance from Him about how to best use the resources we have in our lives. If we're loving God well, everything else in our life comes under submission to him — including our finances." – GodMoneyMe.com
"I think a simple solution is to give money away (regularly and generously).  It's hard to love money when you have an open hand and wallet." – DollarsandDoctrine.com
"In order to fight against the love of money, a Christian should put Christ first in his or her finances.  For my wife and I, giving to God a tithe from our paycheck each month insures God is more important than money.  Giving is an act of faith.  It brings us closer to God and requires us to trust him to provide money and resources to survive.  It's impossible to love money and put it first in your life if you give to the Lord as the first priority.  Matthew 6:24 – "No one can serve two masters. Either he will hate the one and love the other, or he will be devoted to the one and despise the other. You cannot serve both God and Money."  – OneMoneyDesign.com
"The love of money can easily live in the blind spots of our lives.  Thus, the key to fighting against the love of money is intentionality.  Through reading, prayer, and conversations with others, I think we can begin to discover what ways we love of money. Personally, I ask myself certain questions to help me identify my love of money. How many of my decisions are being made based on the financial implications?  What motivates me to do what I do?  When have I neglected to seek first the Kingdom of God?" – MoneyHelpForChristians.com
For more on the Christian Financial Alliance (or to join our team) click here.