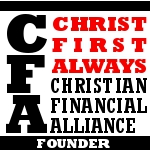 The Christian Financial Alliance  was created to help readers.  The idea is this:  Create a panel of biblical finance gurus.  People who take seriously the call to teach the Bible accurately with grace and truth.  Once a month, we post a question with a response from our panel to provide you with well-rounded, sound, biblical advice.  For more on the Christian Financial Alliance (or to join our team) click here.
"What is one financial mistake you have made (at any point in life) that God used to teach you?"
"For me it wasn't one individual mistake, but the fact that I did not manage my finances according to biblical principles — and thus my net worth suffered. When I discovered what the Bible has to say about earning, saving, investing, giving, and the like and then applied it to my life, things changed dramatically for the better and I've never looked back."- FreeMoneyFinance.com
"One of my first financial mistakes was passing up on an employer-matching retirement fund. I was still in college and thought that putting money towards retirement wasn't a priority. Over the following year or two, I came to realize that God was teaching me to prioritize my future, meaning to cut back on spending in the present so that I can be in a better financial position to help others." – ProvidentPlan.com
"Just the other night my wife informed me that her car was making a terrible squeaking noise.  Sure enough…her shocks were blown.  Being overly-confident in my car repair capabilities, I spent a hundred bucks on new shocks and an hour and half later I was done.  When I double-checked my work, the car was still squeaking!  Upon closer inspection, her spare tire was loose and it took twelve seconds to tighten it down and cost zero dollars!  A hundred bucks and near two hours down the drain.  This seems like the perfect microcosm of my life–I am often overly confident to make decisions on my own and don't show as much patience or prayer as I should." – DollarsandDoctrine.com
"God taught me to not rely on myself recently when I lost my job.  I banked on the constant income and took God out of the picture.  I'm never going to do that again.  It's a much better practice to thank God for the things He's given us on a daily basis.  It all comes down to remembering it's nothing I did, all the glory goes to the Lord." – FreeMoneyWisdom.com
"I'm sure I've made plenty of financial mistakes in my day, but one mistake I've made more than once is to put too much trust in money, and not enough in God.  It's easy to rely on your ability to create wealth and make money – and allow your financial success to create a comfortable life. When that happens it can be easy to forget our great need for God. Proverbs 11:28 He who trusts in his riches will fall, but the righteous shall flourish as the green leaf.  Unfortunately it's been through hard times, like my wife's near death experience with a blood clot, that we've found just how much we need God. When times are hard, and when everything else has fallen away, it's then that we truly have seen how much God is there for us. The important part is to remember His love for us in good times and bad, and to constantly spend time in the word and building that relationship with Him." - BibleMoneyMatters.com
"Back in the early 90s I bought a house with no money down… at the top of the market, of course. What God taught me was that I was impatient. More than that, my actions said I didn't think He knew what He was doing. We lost the house in a short sale.  Never forgot that lesson…" – DropDeadMoney.com
"I'd have to point to the financial train wreck I went through that ultimately led me to accept Christ as my Lord and Savior. More specifically, I took a $60,000 inheritance I received from an uncle and transformed it into $20,000 of credit card debt in two years' time. From the outside, it looked like I simply failed at a small business. But the deeper issue is that I was looking to money to deliver what it is incapable of delivering – identity, purpose, happiness, love. The more those things seemed within reach, the more I kept grasping by spending. Early in my journey of cleaning up that mess – humbled, broken – an old friend got in touch and shared his faith with me. He said my money problems were really just symptoms of a bigger issue, a faith issue. That put me on a path that has completely changed my life." – Matt at Sound Mind Investing
"Around 6 years ago my wife and I decided it was time to sell our house and move.  We were living in a convenient location at the time because my wife taught school just a few miles away, however, she quit teaching after we had our first child.   We desired a better location, better schools and an area that was more developed with entertainment, restaurants and shopping.  We prayed about the move, but in the end we stretched to buy more house that we should have.  We gave and saved less for a few years.  We also found it difficult to meet monthly expenses.  All of this added more stress to our financial lives and convicted us as God's stewards.  Thankfully, increases in pay balanced out our home expenses and we didn't have to move or downsize.  The process reminded us have our responsibilities as God's financial stewards and what happens when we don't make wise decisions."  – OneMoneyDesign.com
For more on the Christian Financial Alliance (or to join our team) click here.