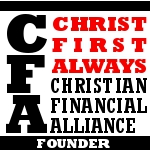 The Christian Financial Alliance  was created to help readers.  The idea is this:  Create a panel of biblical finance gurus.  People who take seriously the call to teach the Bible accurately with grace and truth.  Once a month, we post a question with a response from our panel to provide you with well-rounded, sound, biblical advice.  For more on the Christian Financial Alliance (or to join our team) click here.
"How do you believe a Christian should approach giving while trying to get out of debt?"
"I think you can do both if you work at it. We lived frugally enough that we paid off our mortgage, saved, and gave all at the same time. That said, many people can't do all three to the extent they would like, especially at the start. But I would still suggest they do all three — just at lower levels than they may like. Then as their income increases and they cut costs, they can pay off even more debt until it is gone completely." – FreeMoneyFinance.com
"I think a Christian must do everything possible to honor the Lord first in their finances.  This requires consistent prayer and seeking spirit filled wisdom.  I believe that if we honor God first He will provide for our needs and that may mean providing the required resources to pay off debt.  I also think a Christian in debt, that doesn't have a debt payment plan, should seek the advice of a Christian budget counselor to help set up a budget and create a plan to get out of debt." - OneMoneyDesign.com
"I believe a Christian who is currently in debt should find creative ways to give in small amounts, while prioritizing getting out of debt. This will do two things. First, it will continue to feed the spirit of generosity and prevent him/her from buying into consumerism. Second, it will also help free up finances in the future, which he/she can give without feeling conflicted." – ProvidentPlan.com
"Generosity, as God intended it, flows from the heart as a result of our love for the Father and our fellow man.  In light of this, a Christian that seeks to live as the Bible instructs should make generosity a priority.  While this may slow the 'getting out of debt' process (numerically speaking), it shows that spiritual changes accompany our financial re-tooling.  If we sacrifice giving to get out of debt, we likely will be just as stingy when we are out of debt (because few, if any, spiritual changes took place).  Therefore, if we really want to be transformed at a soul level (rather than just being smarter with our money), we should give while getting out of debt.  Giving smaller amounts of money and giving from our time and talents will allow God to transform us into generous people so that when larger amounts of money are at our disposal, we will handle them as we ought." – DollarsandDoctrine.com
"First, get out of debt.  Being in debt does no good to the Christian community.  Cut expenses and destroy your debt.  Once you're debt free, God can truly use your resources and use you to bless others.  It's as simple as that in my opinion!" – FreeMoneyWisdom.com
"I think that giving is a matter of the heart, and that God wants us to have a generous nature – and to give freely of ourselves and the money he has entrusted us with. I think that giving is not only a monetary thing, but also a spiritual act of worship to God, and as such we should do our best to still give while we're in debt. There may be situations where you have gotten yourself so far into debt that you may need to lower your giving for a time, but I still believe we should do our best to give in any and all circumstances. Each man should give what he has decided in his heart to give, not reluctantly or under compulsion, for God loves a cheerful giver.2 Corinthians 9:7" – BibleMoneyMatters.com
"I think that a Christian should ask why they are in debt in the first place.  They should figure out the underlying cause and address that first.  Since generosity is a matter of the heart, I think that it can and should be continued even if a person is trying to get out of debt." – FaithandFinance.org
"There are three types of people who come to mind, each with a different answer.  First, I've met lots of people who didn't think they could give while trying to get out of debt, but if they were really honest about it there were expenses in their lives they weren't willing to give up.  I think a lot of people could get a lot more serious about their spending in order to speed up the process of getting out of debt while still giving generously.  I've met people who have sold homes they really couldn't afford or go without an Internet connection at home to make their finances work.  The second type is the person who truly has gotten serious about their expenses and honestly can't give at least a full tithe.  For them, I say go back to the example of Cain and Abel and give what for them is a choice gift.  In this case, it isn't so much about percentages; it's about the heart.  The third type is the person who isn't even able to cover their basic needs.  For people in that situation, I believe it's one of those seasons when the church really should be giving to them." – Matt @ SoundMindInvesting.com

For more on the Christian Financial Alliance (or to join our team) click here.