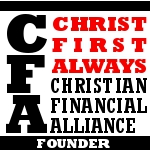 The Christian Financial Alliance  was created to help readers.  The idea is this:  Create a panel of biblical finance gurus.  People who take seriously the call to teach the Bible accurately with grace and truth.  Once a month, we post a question with a response from our panel to provide you with well-rounded, sound, biblical advice.  For more on the Christian Financial Alliance (or to join our team) click here.
"Other than 'time, talents, and treasures', what is an area God has led you to be a better steward?"
"With my health. It's something that most people don't think about as a stewardship responsibility, but to me it is. God gave me this body so that I could accomplish His purposes, and I can't do that if it's weak, tired, and run-down." – FreeMoneyFinance.com
"I think God asks me to serve my family and specifically, my children.  Of course this involves time, talents and treasures, but God requires us, as faithful stewards, to teach children principles of stewardship.  It's become increasingly important to teach my children principles of earning, giving, spending and saving in our house as they get older and understand money is what is used to buys things.  I've learned this is definitely a process and takes time and consistent teaching.  As with adults, children don't learn these principles over night." - OneMoneyDesign.com
"One area in which I have been led to be a better steward is in care of the environment. While I still have a long ways to go in reducing my carbon footprint, I have realized the importance of preserving God's creation. I have become more conscious of it as I do simple things: reducing the heat, growing a small garden, and commuting to work by bike in the summer." – ProvidentPlan.com
""I believe God is challenging me to be a better steward of the gospel (and the purity of the real, biblical message of the gospel).  It seems everywhere I turn, I am challenged to take more seriously the call to proclaim the good news to those around me.  I live in the so-called 'Bible-belt' and assume that 'everyone' has heard the gospel (which is really nothing more than an excuse).  Evangelism is not a natural strength or gift of mine, but is recently an area where God is calling me to mature." – DollarsandDoctrine.com
"Lately, I've been challenged by the Lord to truly cherish my quiet times and make it a quality time with Him.  I tend to get distracted with other things like building my online business and ESPN.  Instead, God keeps challenging me to really place all my focus with the Lord and let Him speak to my heart." – FreeMoneyWisdom.com
"I've been led to be a better steward in the area of the relationships God has given to me. Whether it is the relationship with my wife, my son or my extended family, I think we're called to be a Godly example, to be loving, kind and caring towards those who have been placed in our lives, and entrusted to our care.  Everything we have and every person we have in our lives is created by God and have been placed in our lives for a reason.   But who am I, and who are my people, that we should be able to give as generously as this? Everything comes from you, and we have given you only what comes from your hand.  1 Chronicles 29:14 (NIV)" - BibleMoneyMatters.com
"I've been challenged to be a better steward of my relationships.  We're only given so much time on this earth to connect with others, so making the best of that time is an important aspect of stewardship." – FaithandFinance.org
"My health.  I've never had any significant health issues, but I don't want to take my health for granted.  So, I've become a consistent runner and I'm getting more intentional about what I eat and what I don't eat.  The final health-related frontier for me is sleep.  I'm up early with rare exceptions since I'm a morning person (plus we have have young kids who never sleep in!).  But I have a hard time disciplining myself to get to bed at a decent time.  There's always one more thing I want to do." – Matt @ SoundMindInvesting.com

For more on the Christian Financial Alliance (or to join our team) click here.