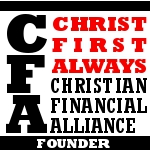 The Christian Financial Alliance  was created to help readers.  The idea is this:  Create a panel of biblical finance gurus.  People who take seriously the call to teach the Bible accurately with grace and truth.  Once a month, we post a question with a response from our panel to provide you with well-rounded, sound, biblical advice.  For more on the Christian Financial Alliance (or to join our team) click here.
"What is the connection between a Christian's sense of 'calling' for their life and their professional career?"
"I think it varies from person to person. I view a "calling" as more of a faith-based area that you feel God is pointing you towards. For some people (like pastors, church musicians, etc.), the calling turns into a career. For others, their career is separate from their calling and they find non-vocational ways to fulfill that calling (like volunteering for a non-profit, serving on a church committee, etc.)." – FreeMoneyFinance.com
"I think God teaches us a lot through our professional careers.  The skills we learn and experience is something we can often apply to God's calling for our lives.  I also think that today's job may not be God's plan tomorrow.  We should be honorable in our work and seek to glorify God in it.  Doing so will help us to be ready for new opportunities." – OneMoneyDesign.com
"Well, if this is intended to mean the calling to the Christian life, then I would say the connection is that every aspect of their life should be influenced by that calling – including their professional career.  Everything they say or do should be dedicated to the glory and service of God and shouldn't be segregated based on where you are or what day it is." – ProvidentPlan.com
"Trying to intersect our professional career, our unique talents and gifts, and God's 'calling' for our life is an awesome endeavor, but I think  that Christians often approach this type of idea backwards.  We aim for some perfect integration of profession, personality, and piety, yet somehow the vision of this sanctified career always seems to elude us.  I believe that we must begin by doing the simple things that God calls all of His children to do:  love God, worship, pray, serve, love others, study the word, help those in need, put to death sin, etc.  When we begin to be faithful with the things that we already know are God's calling for our life, we begin to have a lot more clarity regarding the areas of our life where we aren't sure where God is calling us." – DollarsandDoctrine.com
"Too often we separate life in categories and boxes.  However, everything we do – even eating and drinking – can be for God's glory.  One must have a sense that their career is contributing value to the Kingdom.  If that is the case, then all they do in their profession is part of their calling." – MoneyHelpForChristians.com
"I really believe that Christians get too confused about this issue when it should be simple.  You are where you are because God wants you to be there!  You can share the Gospel with anyone in every situation.  It's not random chance that you work at a job you might not like.  You should follow your calling but within the lord's will." – FreeMoneyWisdom.com
"Our ultimate calling as Christians is to be an example of Christ to others in all that we do.  Paul didn't let his career as a tentmaker stop him from ministering to others and sharing the Gospel of Christ.  He used it as a platform to support and propel his ministry journeys.  We should do the same." – FaithandFinance.org
For more on the Christian Financial Alliance (or to join our team) click here.