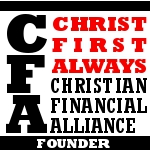 The Christian Financial Alliance  was created to help readers.  The idea is this:  Create a panel of biblical finance gurus.  People who take seriously the call to teach the Bible accurately with grace and truth.  Once a month, we post a question with a response from our panel to provide you with well-rounded, sound, biblical advice.  For more on the Christian Financial Alliance (or to join our team) click here.
"Name one non-financial benefit of managing your money wisely."
"Peace. If you have no debt, have a solid emergency fund, and have saved/prepered for life's various monetary challenges, you have a lot of peace in your life. You know you're prepared if/when challenges arise. It's a great, great feeling that most people can only dream about." – FreeMoneyFinance.com
"Managing your money wisely can improve relationships because of more financial peace in the household.  Poor money management, such as over leveraging oneself, can wreak havoc on a marriage.  It adds more stress to relationships and can sometimes lead to divorce in the most extreme situations.  Spouses can actually grow their relationship when they manage their money wisely together.  However, the most important relationship that will grow is our relationship with the Lord.  God wants us to be faithful stewards.  When we follow His financial principles we can experience more joy because we are walking closer to God." - OneMoneyDesign.com
"The best benefit I can think of is the ability to more fully experience the joy of giving.  Giving can be quite joyful even if you're not managing your money well.  But if you are managing your money well, then worry about your own finances can't come in and ruin the experience of giving for you." – ProvidentPlan.com
"Freedom from slavery to self.  Our natural tendency (which shows up so clearly in the way we handle our money) is to put ourselves first all the time, in every thing.  Taking control of our money teaches us about contentment, generosity, self-control, etc.  In a lot of ways, it de-thrones the "me-first" mentality that is so prevalent in our culture and replaces it with a sense of purpose and perspective beyond numero-uno." – DollarsandDoctrine.com
"The greatest non-financial benefit of managing money wisely is joy.  It's a blessing to be able to able to minister to others in their times of need.  God made us so that giving would bring us joy." – MoneyHelpForChristians.com
"Peace of mind and less stress.  Not managing your money wisely increases the odds that you're going to live a life with stress because you will most likely find yourself in a bad financial situation.  Manage your money wisely and save for your future, it's much more appealing!" – FreeMoneyWisdom.com
"One non-financial benefit of managing your money wisely according to God's word is that you'll have a lot less stress in your life.  When you give, save, plan and honor God with your money it will mean that you'll have less worries because you realize your money is actually God's and you're only a steward. When money doesn't become the central focus or an idol in your life, you'll be better able to use money as a tool to help others and to help the ones you love.  Plus, even if you were to lose it all – we know as Christians that God will supply all our needs.  Philippians 4:19 And my God will supply all your needs according to His riches in glory in Christ Jesus." – BibleMoneyMatters.com
"Less stress! More often than not, having merely a vague understanding of your finances causes worry and uncertainty. Taking as little as 10 minutes a week to go over your spending plan can greatly reduce un-needed stress. Plan wisely and chill out!" – StewardshipWeekly.com
"Managing our money wisely takes discipline, and discipline, if we grow it, is a virtue that serves us well in almost every area of life. It helps us work harder, make good decisions, and do things in life based on wisdom, rather than on our feelings. I've found that laziness in one area of my life tends to bleed over to other areas as well, but the good news is that discipline bleeds over too. When I'm walking in discipline in my financial life, I find myself more disciplined to work hard, exercise, eat well, spend time with God and build my family relationships. Life is more than just finances, and an attitude of discipline will help you all the way around." – GodMoneyMe.com

For more on the Christian Financial Alliance (or to join our team) click here.