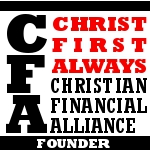 The Christian Financial Alliance  was created to help readers.  The idea is this:  Create a panel of biblical finance gurus.  People who take seriously the call to teach the Bible accurately with grace and truth.  Once a month, we post a question with a response from our panel to provide you with well-rounded, sound, biblical advice.  For more on the Christian Financial Alliance (or to join our team) click here.
"If you could somehow, someway get all Christians to have the same financial new year's resolution…what would it be?"
"Give at least 10% of their income to organizations that help the poor, hurting, and disadvantaged." – FreeMoneyFinance.com
"I think it would be to honor the Lord first in our finances through regular Christian giving.  My wife and I decided several years ago to give out of faith and trust in the Lord.  We're thankful we made the sacrifice to give first and feel very blessed that God continues to provide for our needs.  Sometimes the numbers don't make sense on paper.  You can always say you need to save more or get out of all your debt before giving, but if that's the case, you'll never make giving a priority.  Giving is an act of faith and trust in the Lord.  It's a personal decision between you and God.  My hope is that every Christian will pray about giving as the number one priority in their monthly budget." - OneMoneyDesign.com
"If I could get all Christians to have the same financial new year's resolution it would be to focus every aspect of their life around the Kingdom of God and to begin learning ways to make that a reality for each day.  Everything else that is needed would follow!" – ProvidentPlan.com
"I would have all Christians set out to narrow the gap between their faith and their finances.  For a variety of reasons, our financial life is an area we tend to be a lot more comfortable keeping Christ out of.  In light of this, I believe all sorts of deep and profound, spiritual and practical changes could occur in 2012 if Christians made a concious effort to marry their money to their maturity in the faith." – DollarsandDoctrine.com
"To decide how much is enough.  I believe that we naturally consume in excess.  Without boundaries in place, we'll find a way to spend what we make.  However, if we intentionally determine how much is enough, we'll open the door for generous giving." – MoneyHelpForChristians.com
"Haha, I would have to say to get out of debt and never take on debt again.  Living debt free really opens up Christian familys for greater impact in their communities and making a case for Christ.  If Christian are living in debt, how is that living like Christ?  We should be model Christians and live debt free.  If the entire Christian community achieved this, you'd see amazing things happens with money and other resources.  Here's to debt free during 2012!" – FreeMoneyWisdom.com
"Work to get out of debt, so they all have more money to fund the Kingdom." – ChristianPF.com 
"A self-rewarding and God honouring financial resolution for this new year could be to save up $500 and give it away as an offering outside of your regular Sunday morning habits. If you earmark the funds for this very specific purpose and diligently seek the Lord's guidance, the Holy Spirit will direct you to the intended recipient(s). Why is this act of service self-rewarding? "It is more blessed to give than to receive" Acts 20:35." – StewardshipWeekly.com
For more on the Christian Financial Alliance (or to join our team) click here.