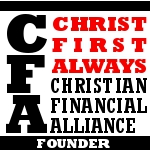 The Christian Financial Alliance  was created to help readers.  The idea is this:  Create a panel of biblical finance gurus.  People who take seriously the call to teach the Bible accurately with grace and truth.  Once a month, we post a question with a response from our panel to provide you with well-rounded, sound, biblical advice.  For more on the Christian Financial Alliance (or to join our team) click here.
"If you were going to give a friend a book for Christmas from the Christian Finance genre, what would it be?"
"By far the best Christian financial book I've ever read is Money, Possessions, and Eternity by Randy Alcorn. It does a GREAT job of looking at the various ways Christians think about money, then offers a biblical perspective on how we should. A close second is "Sound Mind Investing" by Austin Pryor. It's one of the best investing books I've ever read — Christian or non-Christian. It really simplifies a subject that can be very difficult for people." – FreeMoneyFinance.com
"I would have to give my friend Your Money Counts by Howard Dayton.  It was one of the first Christian finance books I read prior to my wife and I going through the Crown Small Group study.  It's wonderfully easy to read and covers just about every topic you can think of related to money.  Howard Dayton provides practical tips that make sense and provides plenty of Christian perspective about money management." - OneMoneyDesign.com
"I really enjoyed Chuck Bentley's The Root of Riches when I read it this past summer.  It really strikes at the heart of many of the root causes of our financial problems.  I like that it shifts the focus from a bunch of financial fix-it steps to the core principles of the Bible.  I also had a great interview with Chuck that people can check out if they want to get a better idea of what the book is about."- ProvidentPlan.com
"This is a tough question, but if I had to pick one I would choose:  A Life Well Spent by Russ Crosson.  It was the first book I ever read that got me thinking about the fact that as Christians, we should manage our lives and our money differently (choosing biblical wisdom over cultural norms).  In a very literal sense, this book started my journey of diving into what the Bible has to say about how to utilize all the resources God has given us.  It's a great book that would appeal to a wide audience (not just financial gurus)."- DollarsandDoctrine.com
"At the risk of sounding biased, I'd give Money & Marriage: A Complete Guide for Engaged and Newly Married Couples to anyone who is engaged or has been married for about five years or less.  I'd give Money Strategies for Tough Times to anyone who is struggling with financial challenges.  And I'd give Money, Purpose, Joy to anyone – Christian or not – who has an interest in learning how to use money in a way that will help them fulfill the purpose of their life." – MattaboutMoney.com
"I'd probably give them Money, Possessions, and Eternity by Randy Alcorn.  That book does an excellent job laying the theological and biblical framework for finances.  If someone were in debt, I'd give The Total Money Makeover.  If someone were learning to invest, I'd give the Sound Mind Investing Handbook."- MoneyHelpForChristians.com
"Definitely Root of Riches by Chuck Bentley.  He did an awesome job on combining the Christian faith and Biblican principles for money.  He conveys his thoughts in a way that are easy to understand but have many layers at the same time.  Root of Riches made a huge impact on the way I view money and I'm better off because of it.  I highly recommend this book to any Christians this holiday season." -FreeMoneyWisdom.com
"Money, Possessions, and Eternity - Randy Alcorn" – ChristianPF.com 
For more on the Christian Financial Alliance (or to join our team) click here.