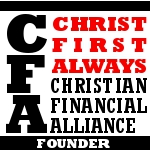 The Christian Financial Alliance  was created to help readers.  The idea is this:  Create a panel of biblical finance gurus.  People who take seriously the call to teach the Bible accurately with grace and truth.  Once a month, we post a question with a response from our panel to provide you with well-rounded, sound, biblical advice.  For more on the Christian Financial Alliance (or to join our team) click here.
"In your opinion, what is the "best" thing a church can do with money?"
"I think the best thing a church can do with its money is to fullfill the commandments to love God and love your neighbors. How that plays out in any given church is a matter of their specific vision." – FreeMoneyFinance.com
"I think the best thing a church can do with money is to equip the church leaders to help people find and follow Christ.  That's the mission of our church and I think our monthly giving commitment should be used to make sure our leaders are well suited to teach the church members but also to minister to those who haven't found a church home or don't have Christ in their lives yet." - OneMoneyDesign.com
"The only one-size-fits-all answer that I think is appropriate is whatever God is calling them to do with the money.  Obviously, I don't mean for someone to just say that they think God is calling the church to do such and such with the money.  But each church should be intensely focused together on listening to God, praying for wisdom, and seeking His will for them in their situation and context."- ProvidentPlan.com
"As strange as it may sound, I would say to follow biblical instruction.  I fear that many churches in America handle their money more along the lines of cultural norms than biblical principles.  On account of this, I would encourage churches to seek the scripture's counsel for their financial management."- DollarsandDoctrine.com
"The best thing a church can do with money is give away a portion of all that comes in – at least 10 percent.  Use the money to support missionaries that have been sent from the church.  Use it to help those in the church who are in crisis.  Use it to help the poor in the community.  Use it as God leads to be a blessing to others." – MattaboutMoney.com
"My first thought was to provide for missionaries.  However, after a little bit of thinking I would have to say that providing for the poor, downtrodden, orphans, and widows in the churches local community is the 'best' things it could do.  In Matthew 25:36 Jesus talks about taking care of those in need.  I think this is the single best way we can show the love of Christ, by serving those in need." – DiscipleshipGuy.com
"Churches should fulfill their mission and calling with their money.  I know that sounds like a trivial thing to say.  However, far too many churches don't have a clear sense of what God wants them to be doing.  They don't know where to focus time, effort, resources, and money.  Thus, when a church has a clear sense of their purpose, they'll have a better idea of how church funds ought to be spent." – MoneyHelpForChristians.com
"I really don't think there is one "best thing" a church can do with their money.  However I would have to say supporting missions abroad and helping missionaries get the gospel out there is an important one.  I feel like churches spend too much time on their flock.  So spending money on outreach in other countries and making sure missionaries have the tools necessary is a critical item that churches should use their money for." -FreeMoneyWisdom.com

"Finding ways to translate the money into winning the lost." – ChristianPF.com 
For more on the Christian Financial Alliance (or to join our team) click here.