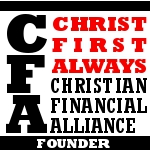 The Christian Financial Alliance  was created to help readers.  The idea is this:  Create a panel of biblical finance gurus.  People who take seriously the call to teach the Bible accurately with grace and truth.  Once a month, we post a question with a response from our panel to provide you with well-rounded, sound, biblical advice.  For more on the Christian Financial Alliance (or to join our team) click here.
In your own words, define "biblical contentment".
"Biblical contentment isn't something that we find in things or circumstances, it is only found in our convictions. We have to trust in God's promise that his grace is sufficient for us in all circumstances, both good and bad.  When we do, we will find contentment." – BibleMoneyMatters.com
"Being at peace with who you are. In a financial sense, that extends to being at peace with what you have/own as well." – FreeMoneyFinance.com
"Biblical contentment is being secure in our relationship with God versus the materialistic things in this world.  God provides all we need to survive and just the right amount of resources to manage faithfully for Him.  Having contentment in God provides a new perspective on our work and career, finances and the challenging circumstances we may encounter in this life.  Paul shares in Philippians 4:19 that he has all he needs in Christ.  The problem many people face is when they get caught up in what the world offers which never brings the true joy and peace we can have when we learn to be content and know that God is a loving God who will provide for all of our needs." - OneMoneyDesign.com
"Biblical contentment is discovering the full sufficiency of Christ in your life.  It's true contentment that is not changed by your circumstances or your wealth (or lack of wealth).  Biblical contentment is being able to say, "I have Christ and He is enough.  I lack nothing!"  That's the power of  contentment in Christ." – ProvidentPlan.com
"The definition I came up with while writing my second book (Christ-Centered Contentment) is:  'Christ power, purpose, and provision are sufficient for any circumstance.'  It's finding life in Christ, not in things."- DollarsandDoctrine.com
"Biblical contentment means that we don't have to look to material possessions for fulfillment.  We serve a God that has promised to always provide for us, so we should feel satisfied and fulfilled because of his grace, not because of worldly possessions."-FaithandFinance.com
"Biblical contentment is knowing that you are where you are suppose to be.  You may not like your situation, finances, career, etc, but you know beyond a shadow of a doubt that you are in the center of God's will for your life, at this very moment.  You also know, that the Lord is your Father and He will provide for all of your needs, even in the midst of the desert.  Contentment is not about what you have, it's about being secure in where the Lord has you – no matter the circumstances." – DiscipleshipGuy.com
"Let's break the two words down; 'Biblical' pertains to anything that has its origins in the Word of God.  'Contentment' refers to a deep feeling of satisfaction, often directly related to what we have or the state that we find ourselves in.  Thus, "Biblical Contentment" is feeling complete gratification for all that has currently been bestowed upon us while at the same time, having open hearts to offer up praise and worship to the Lord with a clean conscience – void of covetousness.  (In Plain English – "Thank you so much Lord for what you've given me.  It's exactly what I need right now")" – StewardshipWeekly.com

"Biblical contentment means finding your peace, satisfaction, and meaning in Christ.  It is not subject to the winds of success and failure.  It is deeper.  It is a trust.  One trusts that God has him or her in a certain place in life for God's own glory.  A person who sees, accepts and realizes this has the ability to be content in all circumstances because they have been filled to the fullness with Christ himself." – MoneyHelpForChristians.com
"Biblical contentment is centered on the view that all God has created and done should be seen with contentment.  Check out this verse, "In Thy Presence is fulness of Joy; at Thy right hand there are Pleasures for evermore… a day in Thy Courts is better than a thousand. I had rather be a doorkeeper in the House of my God, than to dwell in the tents of wickedness" (Psalm 16:11; 84:10).  It's all about being truly satisfied in the Lord.  Once we as Christians understand that, the rest is easy." -FreeMoneyWisdom.com

"For me it is all about keeping my joy regardless of the things I have and my circumstances. If I ever find myself feeling like I need to have ____ to be happy, I realize I am no longer living in true contentment. I personally try to keep a loose leash on every item I own, regularly asking myself, "would I be able to smile as I gave this away if the Lord led me to?" – ChristianPF.com 
For more on the Christian Financial Alliance (or to join our team) click here.