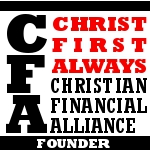 The Christian Financial Alliance  was created to help readers.  The idea is this:  Create a panel of biblical finance gurus.  People who take seriously the call to teach the Bible accurately with grace and truth.  Once a month, we post a question with a response from our panel to provide you with well-rounded, sound, biblical advice.  For more on the Christian Financial Alliance (or to join our team) click here.
Do you believe the Bible teaches the poor should or shouldn't give?.
"I think all Christians are called to give, although the amounts and proportions may be different for the poor and the wealthy.  Giving is a matter of the heart, and we should give freely what Christ has called us to give.  Christ commended the poor widow for giving, so I think that right there should show us that it's a good thing for all of us, including the poor to give.  I don't think, however, that the poor should go into debt to give – as having debt is in most cased frowned upon by the bible." – BibleMoneyMatters.com
"I believe everyone should give according to their ability. I also believe that a smaller gift from a poorer person is just as "valuable" as a larger gift from a wealthier person. 2 Corinthians 8:12 says, "For if the willingness is there, the gift is acceptable according to what one has, not according to what one does not have." – FreeMoneyFinance.com
"I believe that God wants everyone to give.  We are all responsible for managing God's resources as His stewards no matter our income level.  I believe God can provide blessings to us on this earth in the form of additional resources to manage for Him, should we put Him first in our finances.  He who sows bountifully shall also reap bountifully (2 Corinthians 9:6).  This is challenging for those who are finding it tough to meet expenses or get out of debt, but I'd like to encourage people to give as much as they can to the Lord out of trust and faith that He provides for all of our needs." – OneMoneyDesign.com
"I believe that God is very clear in the Bible that He expects all His followers to be generous and ready to share at all times.  So I wouldn't necessarily prevent a poor person from giving.  Giving is a grace of God and a joy to those who are following Him in the power of the Holy Spirit.  However, I also don't believe that the Bible teaches that a poor person must give beyond their means.  We must never forget that God wants us to give so there may be equality and not to place an undue burden on anyone." – ProvidentPlan.com
"Whether we realize it or not, when we begin to distinguish who should or shouldn't give based upon their financial situation, we unknowingly make biblical giving about amounts–turning what is spiritual into economics, and turning the focus on our wallets instead of our hearts.  This is clearly not the way the Bible approaches generosity.  The scripture does advocate proportional giving…but I believe the call to generosity extends to all believers.  I wrote a position post on this very topic."- DollarsandDoctrine.com
"The Bible is clear in teaching us that everyone should be generous with the resources they have.  Often quoted is the story of the widow in Luke chapter 21, who gave much less than the others in monetary terms.  Jesus was quick to say that she had given so much more because of her willingness to give all she had.  Remember, giving is more about the motives of your heart than the size of your offering check."-FaithandFinance.com
"Everyone, bar none, is accountable to the Lord for how they live on the earth.  God requires everyone to be generous (Matt 5:42, Luke 6:38).  Do we get an out if we are poor?  No.  There are too many examples in the Bible of God requesting even those with little, to give what they had (1 Kings 17:8-24), and those who had little, giving all the have (Luke 21:1-4)." – DiscipleshipGuy.com
"The Lord instructs everyone – the rich & the poor – to "lay up for yourselves treasures in heaven" (Matthew 6:20).  It is evident in numerous passages of scripture, that one of the many ways a believer stores up treasure "where neither moth nor rust destroys and where thieves do not break in and steal" is to give generously of the money God has entrusted to them.  If it is indeed "more blessed to give than to receive" (Acts 20:35), the poor should strive to be active participants in the process as well!  To advise those lacking in financial resources to withhold their gifts from God is to not only take away their opportunity to receive a blessing, but is in direct opposition to Christ's teaching.  "Give and it will be given to you…For with the same measure that you use, it will be measured back to you" (Luke 6:38)." – StewardshipWeekly.com

"The Bible is pretty clear in terms of what God expects of the poor.  Just like the rich, God expects us to give to others and for his kingdom.  The best example I can think of is the story of the widow who gave away her last coin in Luke 21 1:4.  That is a shining example of what God expects of the poor and how we should all view giving." -FreeMoneyWisdom.com

For more on the Christian Financial Alliance (or to join our team) click here.