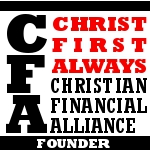 The Christian Financial Alliance  was created to help readers.  The idea is this:  Create a panel of biblical finance gurus.  People who take seriously the call to teach the Bible accurately with grace and truth.  Once a month, we post a question with a response from our panel to provide you with well-rounded, sound, biblical advice.  For more on the Christian Financial Alliance (or to join our team) click here.
In your own words, define biblical generosity.
"Biblical generosity is giving that is a result of a transformed heart.  We give because God loved us first and because we long to love, live and give as He did.  We want to grab hold of the abundant life in Christ – of which giving is an important part.  We are told by Jesus himself that "it is more blessed to give than to receive" (Acts 20:35).  By giving we are also able to help release the hold that money can create on our hearts.  "Instruct those who are rich in this present world…to do good, to be rich in good works, to be generous and ready to share…so that they may take hold of that which is life indeed." (Tim. 6:17-19)  We are told that our heart can't serve two masters, and by being generous with what God has given us we're able to release it's hold on our lives and truly serve Him.  "Each one must do just as he has purposed in his heart, not grudgingly or under compulsion, for God loves a cheerful giver." (2 Cor. 9:7)  To me giving generously in a biblical manner leads to happiness, fulfillment and to loving others as Christ first loved us." – BibleMoneyMatters.com
"Loving your neighbor by using money to make his life better in some way." – FreeMoneyFinance.com
"Generosity, in my own words, is being spirit led for giving decisions.  If we feel that God is leading us to be generous in a certain way with our money, we should act on this in faith.  This requires us to not be overly attached to money, but always remaining open to God's plan.  After all, we're called to manage it for him.  The best way to release the hold on money is to stretch your faith and give to God first out of every paycheck." – OneMoneyDesign.com
"Biblical generosity is fueled by a passion for sharing God's love with the world.  It's about realizing the great gift we've received from God through Jesus Christ and desiring to pass that gift on to others (in a variety of ways – not just money).  It's cheerful, freewill, and sacrificial and is motivated purely by love." – ProvidentPlan.com
"Biblical generosity is extending the goodness of God and grace of Jesus Christ to the world by living a life of pouring out–of putting the needs of others above ourselves." – DollarsandDoctrine.com
"Biblical generosity is seeking first the kingdom of God.  It is accepting and adopting a new mind with which we evaluate what makes sense and what is a good financial decision.  It is the desire to love God and others – even when others can't understand those choices.  Biblical generosity means acknowledging the blessings of God in our lives and giving him full ownership over everything we have." – MoneyHelpForChristians.com
"It blesses God when we are generous.  It's an act of worship; it's a way we can show love to others; it develops character within the giver.  When we give freely, we can experience the joy that comes from it and be blessed in our own life as we bless others."-FaithandFinance.com
"To me, there is one very straightforward passage in scripture that tells us what Biblical generosity looks like, those verses are found in Luke 10:25-37.  It's the story of a Samaritan (who was hated by the Jews), stopping alongside the road, and helping and providing for a Jew, someone that socially despised him.  This is the present day equivalent of a well known political nemises, the star player on a sports team that just beat your team, or someone from a different religion as you.  And what Jesus is asking you to do is this, stop what your doing, help them out, and provide for their needs.  There is only one way that we are able to meet the scriptural example of being generous.  We must love our neighbors as ourselves (Mark 12:31), and we must be willing to love our enemies (Matthew 5:44).  If our life, not just our answer, looks like this, then I think we are living a Biblically generous lifestyle." – DiscipleshipGuy.com
For more on the Christian Financial Alliance (or to join our team) click here.