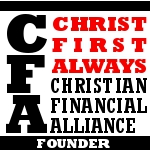 The Christian Financial Alliance  was created to help readers.  The idea is this:  Create a panel of biblical finance gurus.  People who take seriously the call to teach the Bible accurately with grace and truth.  Once a month, we post a question with a response from our panel to provide you with well-rounded, sound, biblical advice.  For more on the Christian Financial Alliance (or to join our team) click here.
What do you think is the biggest struggle for married couples when it comes to money?
"One of the biggest struggles I think for a lot of couples is becoming one in their marriage in all things, even things like money. I think the temptation can be to allow one partner to take the lead on the finances, and the other just defers to the other one, and never gets involved in the money discussions. I think that can be a mistake, and can often lead to mis-communications, and one partner feeling like their input isn't valued.  For that reason I like to have weekly or monthly family budget meetings where the husband and wife sit down and talk about the financial situation, even if it is just a brief meeting. Allow both partners to have say in the budget, and have them change things if needed.   It needs to be a partnership and something both people are involved in, at least to some degree.  Make sure you're always looking out for the best interests of your spouse, not just yourself. "Each of you should look not only to your own interests, but also to the interests of others." (Philippians 2:4 NIV)"- BibleMoneyMatters.com
 "Being on the same page concerning all the aspects of personal finance: earning, saving, spending, giving, etc." – FreeMoneyFinance.com
"Many couples lack the fundamental understanding of stewardship.  God is the owner of money and we are called to be the money managers.  Husband and wife should manage faithfully God's resources as one, not separately.  Practically, I think this is best done when husband and wife stop managing money with separate checking accounts.  Whether income is earned by husband or wife it should be viewed as money entrusted by God for both to manage.  Furthermore, husbands and wives should communicate often about spending decisions to insure both are on the same page before spending occurs.  This is often done in a 15 minute monthly planning meeting to create a spending plan and another 15 minute weekly meeting to review progress with the plan." – OneMoneyDesign.com
"I'd say clear and consistent communication can be a big struggle.  Too often only one person is "running the finances" and has a clear picture of what is happening or needs to happen.  Meanwhile, their spouse can be in the dark and not understand their finances.  Open and frequent communication about money helps to make sure you're both heading for the same goals and are in agreement about what you should do.  But the key is to make sure that communication is not about placing blame.  It needs to be positive and focused on how you as a couple can serve the Lord in your finances." - ProvidentPlan.com
"Jesus said our money and our hearts are always in the same place (Matt. 6:21); therefore, the way we spend our money is a value statement.  From giving to charity to saving for the future to which type of shampoo to buy, the way we spend our money revolves around what is important to us.  You have to recognize this in marriage because–big surprise–you and your spouse will always value things a little differently.  For example, my wife cares as much about HDTV channels as I do about having seasonal Christmas plates.  Without communication, compromise, and striving towards oneness in your marriage and your budget, you will always fight about money because you both view nearly everything with a different level of importance." – DollarsandDoctrine.com
"I think the biggest struggle for married couples is prioritizing spending. One spouse thinks that $30 for a manicure is a great way to use money. Another spouse thinks the $30 should be used on video games.  Frustrations abound when couples can't agree on what is important when it comes to spending.  The solution is honest communication, frequent discussions, a lot of compromise, and an extra measure of God's grace." – MoneyHelpForChristians.com
"It's tough to choose just one!  But I'd say one of the biggest struggles is striking the balance between working as a team while also maintaining some financial freedom.  Of course, it's best to work as a team, deciding together on how the household income will be given, saved, invested, and spent.  But at the same time, it's also really helpful for each person to have some financial freedom.  When my wife, Jude, and I were first married, the way we bought clothing didn't work at all.  We'd call each other wondering whether it's okay to spend this or that amount.  Finally, we set up separate clothing budgets.  As long as we keep our spending to the allocated amounts, we have the freedom to buy whatever we want.  I know of other couples that have separate budgeted amounts for lunches with friends or hobbies.  I think that's really healthy.  Work together on the overall budget, but each person should have some money that he or she is free to spend however they want to." – MattaboutMoney.com
"Coming to an agreement for a budget is one of the biggest financial challenges a married couple may face during their marriage.  This can be especially true for newlyweds who might need to make sharp adjustments in certain spending categories: entertainment, dining out, clothing, or their 'fun money.'  With income and expense projections at hand along with a pencil and eraser, the couple should prioritize the categories and make the spending goals together.  It's also important for the team to review their budget monthly and talk about what's working and what's not.  Discuss the areas that could use some adjusting and be generous with praise for each other on a job well done for sticking with the budget." -FaithandFinance.com
"Although I'm not married yet, I see couples struggle a lot when they view money differently.  For example, if you had a husband who viewed money as something to steward over, while the wife sees money and spends it freely.  Considering money is the number one reason most couples divorce, it's critical to talk about personal finance from the get-go.  This will not only save you numerous headaches but will strengthen your relationship!" – FreeMoneyWisdom.com

"When it comes to money, rarely are two people perfectly aligned and on the same page.  Probably the biggest struggle for married couples when it comes to money is having different perceptions.  We each have different upbringings and have had different experiences with money growing up.  When a couple says "I do", there is no guarantee that they will think alike in regards to finances.  It takes time and openness to understand one another and learn to appreciate where each other are coming from." – MoneyManagersforourMaster.com 
For more on the Christian Financial Alliance (or to join our team) click here.