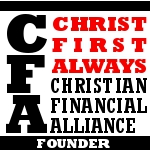 The Christian Financial Alliance  was created to help readers.  The idea is this:  Create a panel of biblical finance gurus.  People who take seriously the call to teach the Bible accurately with grace and truth.  Once a month, we post a question with a response from our panel to provide you with well-rounded, sound, biblical advice.  For more on the Christian Financial Alliance (or to join our team) click here.
What is one piece of advice you would offer to someone wanting to get involved in the financial arena of their church?
"If someone wants to get involved with the church in the financial arena, it can be a good idea to ask the church leadership in which way they might be of assistance.  For some, like  a CPA, that might mean actually helping the church with keeping financial issues in order, and helping to keep the church on budget. For others that might mean leading a financial class like one of the classes from Crown Financial or Financial Peace University. At our church my wife and I got involved with a Wednesday night teaching ministry where we helped to facilitate a Financial Peace University class.  It was a blessing to us, and to many of those who attended.  For others, helping financially might be how they're called to help." – BibleMoneyMatters.com
"Depends on the area, but generally I'd tell them to make sure their finances are solid before they start working on the managing the church's money." – FreeMoneyFinance.com
"I think a great way to get involved is to take a Bible study if your church offers Dave Ramsey's financial peace university or Crown's Biblical financial study.  Going through the course will help you learn more about your passion and give you ideas for getting more involved.  Then, approach a church leader and tell them about this interest.  You might be able to get involved in teaching or even in counseling people."  – OneMoneyDesign.com
"I'd recommend finding out who is currently in charge of these areas and asking them if there is any way you can help.  Let them know you're interested in finances and would like to serve with that gift.  Just make sure your motives are pure and that you won't find working with the church's finances to be a temptation for you (e.g., to steal)." – ProvidentPlan.com
"You have to start with the right mindset–humility.  Asking how (and if) you can help verses riding into town to save the day will drastically affect how your church responds to your interest.  In all honesty, this is an area that can be a HUGE help to churches.  There are a lot churches hurting for someone to help with the financial side of running a church wisely.  If you feel called to it, by all means, get involved." – DollarsandDoctrine.com
"If you have a passion for finance, you can definitely use it to minister at your church.  This can be in the form of leading a small group or actually helping the church with their business matters.  Before you dive right in, be sure to get a thorough understanding of your role and what your responsibilities are in the office or in leading the small group. You need to make sure you've taken the time to sharpen your skills in the areas that are needed so that you can serve to the best of your ability." – FaithandFinance.com
"If considering joining an existing stewardship ministry…Check your motives and then check your knowledge. Regarding your motives, make sure your interest in getting involved is not based in any way on your desire to network for business purposes. Regarding knowledge, make sure you are well schooled in biblical money management. Many times, people who work in the financial services industry are drawn to financial ministry opportunities, and that can be great. But it can also be a problem if what you bring to the ministry is mostly a secular view of money. Biblical teaching on money sometimes runs completely contrary to secular teaching.
If considering starting a stewardship ministry…I recommend not trying to reinvent the wheel. Contact Crown, Good Sense, or Compass (Howard Dayton's new ministry) and let them know you're looking to start a financial ministry at your church. They'll likely be very happy to help. I believe Crown and Good $ense even offer step by step guidance on how to start a financial ministry at your church. Start by using the resources offered by that ministry organization. Eventually, though, I recommend getting to a place where you plant a flag for biblical financial ministry at your church, instead of planting a flag for Crown, Good $ense, or Compass. That way you can pick and choose resources that best fit the needs of your church." – MattAboutMoney.com
For more on the Christian Financial Alliance (or to join our team) click here.