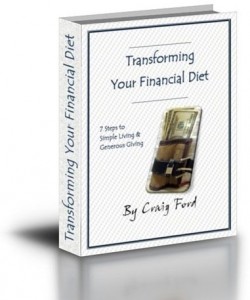 (Ok, so technically its and ebook).  I just finished reading Craig Ford's most recent ebook: Transforming Your Financial Diet: 7 Steps to Simple Living and Generous Giving.  (You may be familiar with Craig's writing from his site MoneyHelpForChristians.com).  It's a great book.  I won't go into to a lot of description of the book because you can get a lot better detail from Craig's site by clicking on the link below.  But as for my "two cents":
Craig does a good job putting the "why" before the "how".  I appreciate this.  It seems the financial world is full of people who will tell you what to do–and even those who will tell you how to do it–but the voices telling you why you should do something are a little harder to come by.  Craig presents his case using sound, biblical teaching to support his arguments, and then digs into practical application.
The book is bold.  Craig had something to say.  He doesn't candy coat the challenging stuff or side-skurt the tough issues.  He speaks with authority and challenges Christians to live as we ought–to live as the Bible instructs.
Craig draws on a lot of other people's wisdom.  There are a lot of quotes and references to other works.  He brings together a variety of input from a variety of sources.  This gives strength to his words and provides a lot of different directions for readers to travel if they want to read further.
To purchase or learn more about the ebook click here.