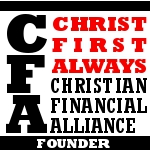 The Christian Financial Alliance  is proud to launch its first question for readers.  The idea is this:  Create a panel of biblical finance gurus.  People who take seriously the call to teach the Bible accurately with grace and truth.  Once a month, I hope to post a question with a response from our panel to provide you with well-rounded, sound, biblical advice.  For more on the Christian Financial Alliance (or to join our team) click here.
What is one tip you would give to people looking for a good ministry to donate to?
"My advice when trying to find a good ministry to donate to would be to first look locally, beginning at your local church.  Since you're probably already involved there, you probably have a good idea of some of the ministries that the church is involved in, and how the money is being managed. If you're comfortable with what your church believes you can probably be pretty confident that the ministries they're giving to are sound biblically. Of course it's always a good idea to do your own research as well to make sure you're giving to organizations you agree with, and that are practicing good stewardship." – BibleMoneyMatters.com
"I have found most of mine through word-of-mouth, then I check them out on Charity Navigator." – FreeMoneyFinance.com
"I would consider praying to God about this and to take a deep look at what you're passionate about. For instance, I'm passionate about Christian financial topics and helping people live by God's financial principles. So, I give beyond my church giving to Crown Financial Ministries which is a ministry focused on equipping people to teach others about Biblical financial princples. Once you know this passion, do some research on the internet, talk to other Christian friends and perhaps even talk to your church leaders to find the right ministry above your church giving."  – OneMoneyDesign.com
"I think the first step always has to be prayer – seek God's will for the ministries/type of work He'd want you to support. Then look for ministries doing that kind of work and check them out on sites like www.charitynavigator.org and www.charitywatch.org to see that they're responsibly using donations. I've found that the ministries working in areas I'm passionate about are likely to be the best fit. For me, that means Mennonite Central Committee, Eastern Mennonite Missions, and HOPE International because they're all very focused on helping the poor break the cycle of poverty rather than remain dependent on donations." – ProvidentPlan.com
"I would tell people to start giving somewhere that they are involved in.  I would do this for two reasons:  It causes us to give wisely when we are a part of the ministry to which we are donating (there is no second-guessing whether or not our funds were stewarded well).  Secondly, it causes us to get real about our call to serve and invest our time and energy in God's kingdom–and not be deceived into thinking our only responsibility is writing checks." – DollarsandDoctrine.com
For more on the Christian Financial Alliance (or to join our team) click here.