A new product is available from dollarsanddoctrine.com.  Finally, a Sunday School series designed to cover the fundamentals of Biblical Finance.  Introducing a new 4 week series: Redefining Riches, Allowing your relationship with Christ to redefine your financial life.  For a very low cost, you can download the 4 week series and begin transforming your Sunday School class, church, small group, or business: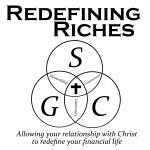 GENEROSITY: A Labor of Love [Content Sample]
Generosity is the result of a transformed heart.
"Each one must do just as he has purposed in his heart, not grudgingly or under compulsion, for God loves a cheerful giver." (2 Cor. 9:7)
God loves a cheerful giver and if we let Him, He will cultivate a joy in generosity within our own hearts. This is how we learn to give with pure motives and pure hearts. We are wasting our money and embittering our hearts when we give out of guilt or obligation. As we allow Christ to transform our hearts, we joyfully give first, proportionally, secretly and sacrificially. (See Also: Prov. 3:9-10, 1 Chron. 29:5-9, Acts 11:29)
Generosity is a lifestyle of giving and loving fully.
"Remember the words of the Lord Jesus, that He Himself said, 'It is more blessed to give than to receive." (Acts 20:35)
The call to generosity is hardly limited to the offering plate. We are called to be generous people. We should gladly choose to be generous with our money, time, energy, talents, gifts, and on, and on. Generosity, when understood biblically, is a way of life. (See Also: Gal. 1:3-4, John 15:13)
Generosity is a spring of life to those who give biblically.
"Instruct those who are rich in this present world…to do good, to be rich in good works, to be generous and ready to share…so that they may take hold of that which is life indeed." (Tim. 6:17-19)
The Bible teaches that it is better to give than to receive. We are told that generosity is one component of taking hold of "that which is life indeed". When we give, we live as Christ calls and love others well. When we withhold, we follow the world's idolization of consumption and love ourselves well. (See Also: Luke 6:38, Phil. 4:17, Prov. 11:25, 22:9, 28:27)
For more product and purchase details click here.