A new product is available from dollarsanddoctrine.com.  Finally, a Sunday School series designed to cover the fundamentals of Biblical Finance.  Introducing a new 4 week series: Redefining Riches, Allowing your relationship with Christ to redefine your financial life.  For a very low cost, you can download the 4 week series and begin transforming your Sunday School class, church, small group, or business: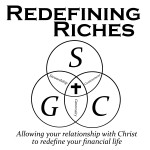 CONTENTMENT: A Steadfastness of Hope [Content Sample]
Contentment is the currency of God's economy and God's people.
"Make sure that your character is free from the love of money, being content with what you have; for He Himself has said, 'I WILL NEVER DESERT YOU, NOR WILL I EVER FORSAKE YOU." (Heb. 13:5)
The world champions consumption, but God's word makes much of contentment. In order to live contently, we have to begin setting our mind on things above. (Col. 3:2) When we allow the scripture to guide our thoughts and habits, we free ourselves from the insatiable appetites of the world and allow instead the fullness of God to be our portion. A content Christian finds his hope in God not in success or accumulation. (See Also: 1 Tim. 6:6-8)
Contentment is a lifestyle based on biblical convictions.
"And He has said to me, "My grace is sufficient for you, for power is perfected in weakness" …Therefore I am well content with weaknesses, with insults, with distresses, with persecutions, with difficulties, for Christ's sake; for when I am weak, then I am strong." (2 Cor. 12:9-10)
The Bible calls us to allow our convictions, not our circumstances, to govern our sense of contentment. True, biblical contentment is a conviction that Christ's power, purpose and provision is sufficient for every circumstance. We are to learn how to walk through all kinds of adversity believing in and experiencing Christ's sufficiency. We have to choose to rest on God's good promises despite what may be going on in our lives.
Contentment is a commitment to choose Christ over consumption.
"Not that I speak from want, for I have learned to be content in whatever circumstances I am. I know how to get along with humble means, and I also know how to live in prosperity; in any and every circumstance I have learned the secret of being filled and going hungry, both of having abundance and suffering need. I can do all things through Him who strengthens me." (Phil. 4:11-13)
A Christian is called to learn to be content. This is a lifelong process, but well worth the time as we learn to lean on Christ for our strength. We are to choose to walk by faith not by sight, choose self-control over self-indulgence, choose gratitude over grumbling and ultimately, choose to set our hope on Christ. (See Also: Luke 3:14, Mark 8:35-37)
For more product and purchase details click here.