A new product is available from dollarsanddoctrine.com.  Finally, a Sunday School series designed to cover the fundamentals of Biblical Finance.  Introducing a new 4 week series: Redefining Riches, Allowing your relationship with Christ to redefine your financial life.  For a very low cost, you can download the 4 week series and begin transforming your Sunday School class, church, small group, or business: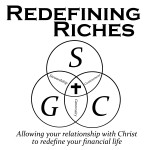 STEWARDSHIP: A Work of Faith [Content Sample]
Stewardship is respectful of God as Creator and King.
"For all things come from You, and from Your hand we have given You…O LORD our God, all this abundance that we have provided to build You a house for Your holy name, it is from Your hand, and all is Yours." (1 Chron. 29:14,16)
When we properly understand God's ownership of all of His creation, we will view ourselves as managers of the resources with which God has entrusted us. Like the parable of the talents, we will seek to utilize our resources according to our master's desire. The way we handle our money matters. The volume of scripture regarding money and possessions is profound. When we consider how often the Law, the prophets, Christ and the apostles spoke of such things, we can no longer view the way we handle our money as insignificant. (See Also: Ps. 24:1, 89:11, Deu. 10:14, Rom. 11:36, Jn 3:27, Matt. 25:14-30)
Stewardship is revealing of our heart's true treasure.
"The good man brings out of his good treasure what is good; and the evil man brings out of his evil treasure what is evil." (Matt. 12:35) "Where your treasure is, there your heart will be also." (Matt. 6:21)
The way we handle and acquire money reveals a lot about our character and priorities. Are we generous, honest, selfish, content, humble or greedy? How we obtain our money and where it ends up reveals a lot about what we value. Christ constantly spoke of the impact our internal conditions have on our external acts. The use of money is a perfect example of this principle. (See Also: Prov. 15:6, Luke 16:10)
Stewardship is rewarding when done biblically and wisely.
"Do not store up for yourselves treasures on earth…But store up for yourselves treasures in heaven." (Matt. 6:19-20)
We will give an account for how we have managed and invested such a powerful asset. Are we investing in the kingdom or ourselves? The Bible clearly relates that heavenly reward awaits those who choose to invest in the kingdom of God. We must recognize that money has huge amounts of "potential energy" and we will be accountable for how we utilized and where we invested what God has entrusted to us. (See Also: Luke 12:33-34, 14:12-14, Matt. 19:21, Heb. 11:6)
For more product and purchase details click here.