A new product is available from dollarsanddoctrine.com.  Finally, a Sunday School series designed to cover the fundamentals of Biblical Finance.  Introducing a new 4 week series: Redefining Riches, Allowing your relationship with Christ to redefine your financial life.  For a very low cost, you can download the 4 week series and begin transforming your Sunday School class, church, small group, or business: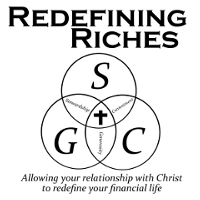 Introduction [Sample of Content]
"We give thanks to God always for all of you…constantly bearing in mind your work of faith and labor of love and steadfastness of hope in our Lord Jesus Christ." (1 Thes. 1:2-3)
The church at Thessalonica was commended for their work of faith, labor of love and steadfastness of hope. Faith, love and hope; these are the workings of the mature Christian life (1 Cor. 13:13). At this point we launch our series on the essentials of biblical finance. Faith, love and hope have a home in the Christian budget as stewardship, generosity and contentment. Stewardship is a work of faith as we seek to live by the principles of God's economy as instructed from His word and exchange our worldly aspirations for heavenly ones. Generosity is a labor of love when we joyfully sacrifice in the name of Christ for the benefit of others. Contentment is a steadfastness of hope in Christ alone regardless of what may be going on in our lives. From this point, our finances become a testimony of our devotion to the Lord not a distraction from Him. We must seek stewardship, generosity and contentment understanding that they are not ends in themselves, but fruits of a much deeper walk with Christ. We must allow our hearts to be transformed by the power and conviction of the Holy Spirit, and our wallets will follow suit.
For more product and purchase details click here.